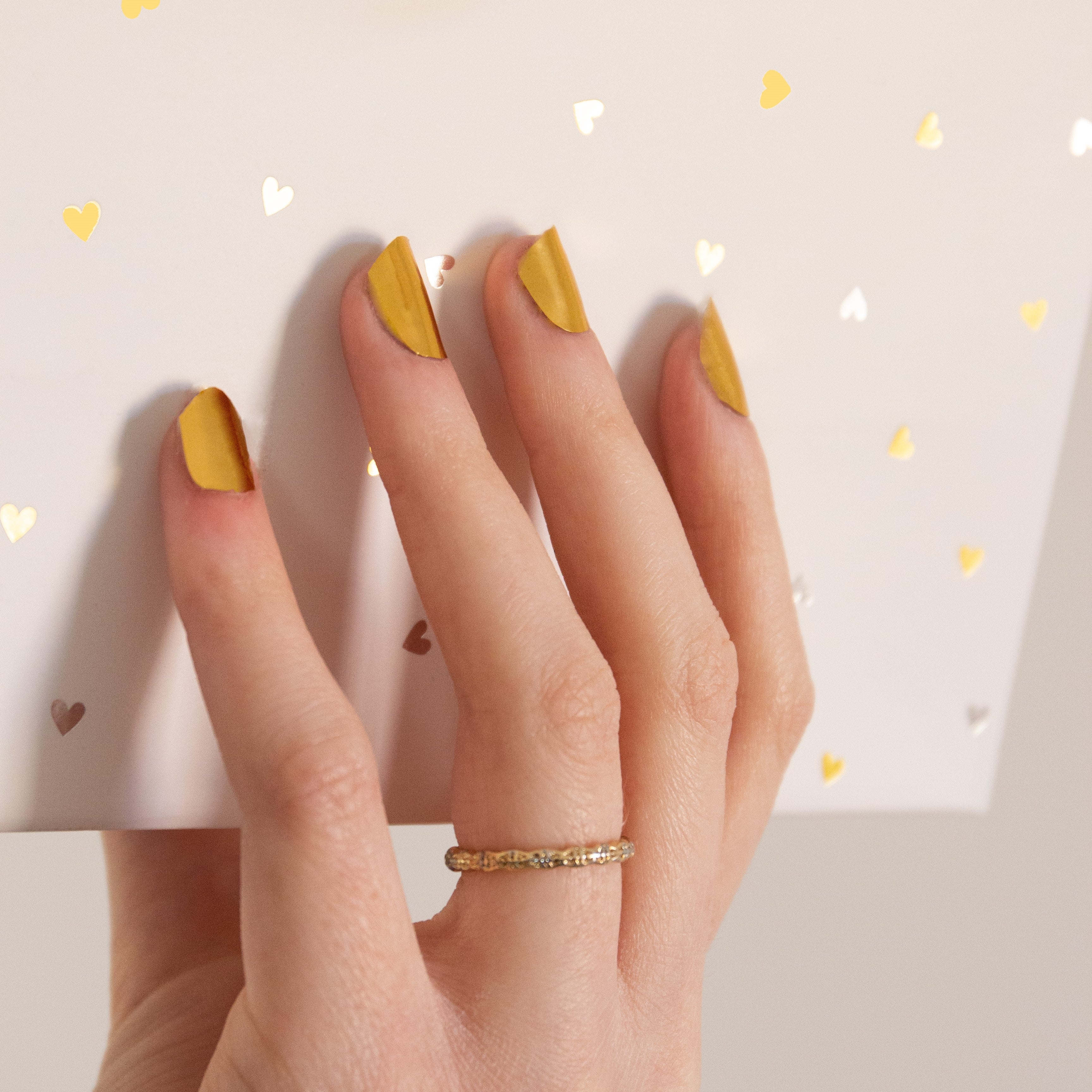 How to Look Like a Total Queen with Metallic Nail Polish wraps
Nothing gives your nails an edgier look than using Metallic Nail Polish wraps. Metallic Nail Polishes can be dressed up for a Friday night-out or dressed down for casual hangouts. You can even co-ordinate them with almost all your outfits because whether it's gold, silver, or rose gold, these colors almost perfectly match with other shades. However, there's a certain way to carry metallic nail polishes so you can truly pull them off and look like a total queen.
So, how can you look like a total queen with metallic nail polish wraps?
Contrast with a glitter nail polish wrap
Even though metallic nail polish wraps are sleek and refined just on their own, it's important to add more dimensions to them since that can truly add life to your nails. Consider switching up your typical look by putting one coordinating glitter nail polish wrap on one nail and the relative metallic nail polish wrap on the rest.
Doing different nail colors on each nail is relatively a new concept that can now be applied with metallic nail polishes as well so that they can outshine the others. Here, using just two corresponding colors helps break the monotony running on your nails.
As an example, the silver metallic nail polish wrap at Hello Nails is versatile and given that, you can find multiple coordinating tones of glitter nail polish wraps to give your nails and fashion taste a sense of personality. Break the norms and be you - by pulling off metallic nail polishes in the best possible way!
Create mermaid scales
This may seem like a long process at first, but it's totally worth the extra hassle as it makes you feel super edgy but magical at the same time. For this, you'll be needing metallic nail polish wraps, whether it's rose gold, gold, or silver nail polish or any other tone. Other than that, you'll also be needing a black nail art pen to work with to get you the best mermaid scales.
First, you must stick your metallic nail polish wraps on your nails, which are available at Hello Nails. Once you're done with that, take your handy dandy black nail art pen and use that to design scales on each of your nails. Drawing scales is not considered to be too much of an artistic job; therefore, you should be able to take care of that yourself. And this is how, just by inking scales on your metallic nails, you can create mermaid scales to make you feel like you belong in a fairytale.
Embellish your nails with polka dots
Adding polka dots to your metallic nail polishes is a good way to create a contrast between two varying surfaces. You can choose shimmery polka dots so that they stand out on a metallic base to help you give wholeness. Surprisingly, the polka dots on the nails pop out mostly because of the metallic base color. So first, work on getting your nails some metallic shade by putting on metallic nail polish wraps from Hello Nails. Whenever you get done with that, use any corresponding color of a nail art pen to draw your polka dots, and then you're ready to go!
Use nail polish wraps instead of traditional nail polishes
All nail colors, especially metallic colors, look the best when they're applied in moderation using just a thin stripe. The thinnest layer of color can only be achieved if you purchase nail polish wraps over the traditional liquid or gel nail polishes. Getting a fine layer of metallic shades on your nails is the goal and wraps can more efficiently help you reach that. The metallic nail polish wraps' collection of the Hello Nails has multiple colors for you to choose from; so pick one or more according to your liking and be amazed by the reactions you get for acing the basic rule of getting a manicure. Rose gold nails are super trendy these days so be sure to try them on through Hello Nails and see how great they look with a thin layer.
Make thin stripes on your metallic nails
As mentioned above, having sleek metallic nails is one thing, and having metallic nails full of personality is another. And adopting this technique is just another way to bring life to metallic nail polish wraps to help you look like a total queen. Adding stripes of matte nail polishes of the complementary colors onto the original metallic nail wraps is another way to make a bold statement. This classic style can be used on casual weekends as well as office-filled weekdays working for versatility and practical uses. The Hello Nails collection will surely have your favorite base metallic color for your new manicure!
Now, do you realize there's another route to applying metallic nail polishes to help you really pull them off? Do you think now you can step your game up by a notch if you follow these basic rules of manicure? Following these guidelines is not mandatory, but these are just a few suggestions for you to rely on to help overcome your plateau. Once the barrier is crossed, you can walk out with added confidence in your metallic nails and truly look like a total queen when doing so!
What are you waiting for? This is the perfect chance for you to rock your place in this world!  Hello Nails will be by your side to give you premium quality metallic nail polish wraps whenever you're ready. All you have to do is, find your energy and convert that into self-confidence using your nails!