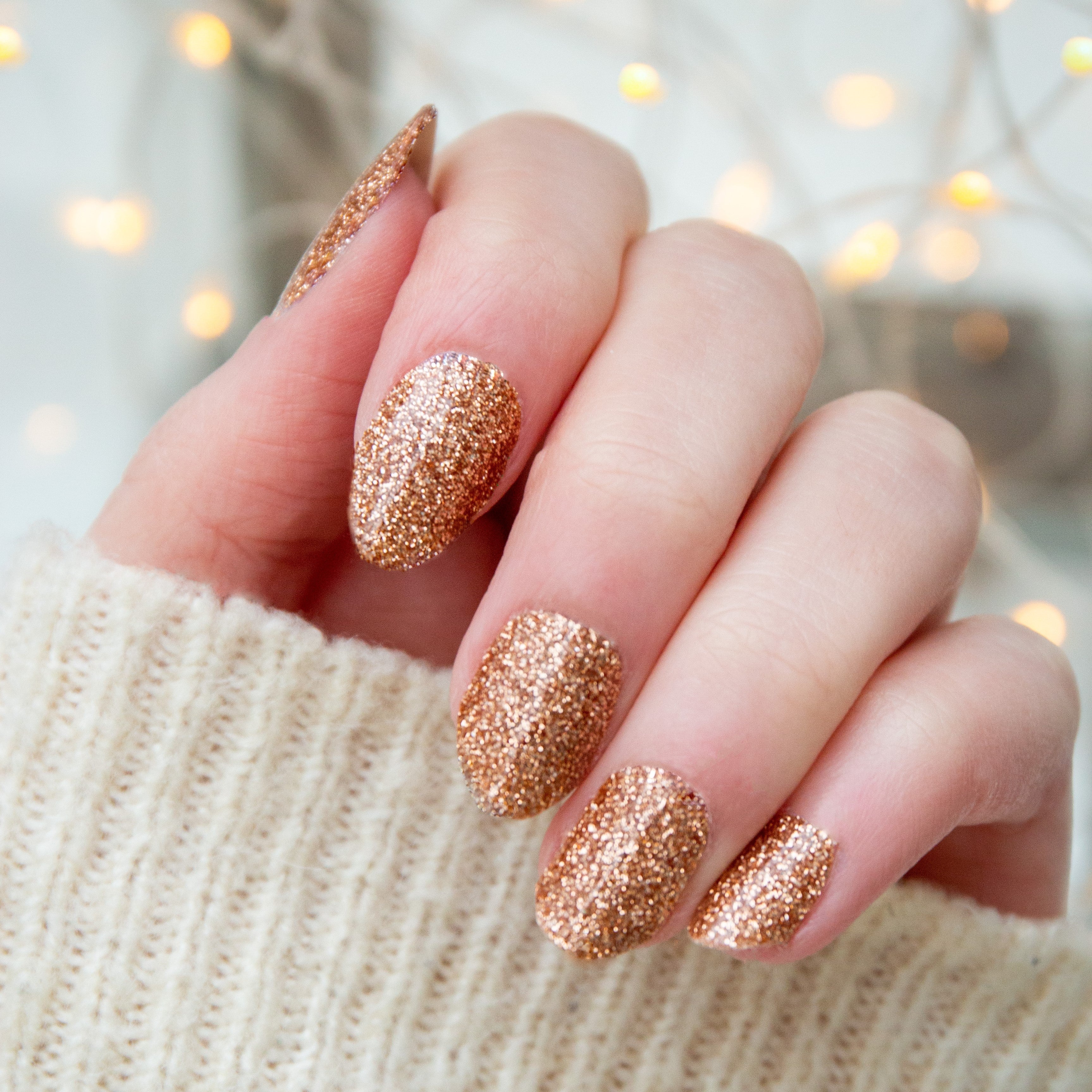 Why are Glitter Nail Polish Wraps better than Glitter Nail Polishes?
Purchasing nail polish wraps rather than spending money on an old-fashioned and traditional manicure that uses nail polishes is now a popular trend.
People are more inclined towards buying wraps for themselves rather than getting a professional to do their nails, or merely applying nail polishes. Since the covid-19 pandemic, a do-it-yourself attitude has increased in popularity - to save money, to gain independence and self-sufficiency as much as possible. 
Have you wondered how convenient it would be if you could simply put on embellished stickers on your nails, ready to change them for every upcoming event, rather than painting your nails differently each time? Wouldn't the latter be such a hassle when there's an easy way out?
Glitter has always been a popular style of nail polish. Whether it's for parties, a night out or another special occasion, they add a bit of glamour to your nails. And now with glitter nail polish wraps, there's no need to change your nails frequently via a very time-consuming process! To make the concept of using nail polish glitter wraps clearer, let's talk about nail polish wraps compared to the regular nail polishes.
Glitter nail polish wraps are more economical
Imagine having a week lined up of events – a party followed by a formal dinner followed by another party. In some of these events, you would prefer having a glittery, fancy manicure but you can't do the same for plain old formal dinners. For those, you would need gloss nail polish wraps (or if you're daring, matte nail polish wraps). Given this, imagine having to do your nails properly now every time! To make that possible, you will have to spend lots of money on each manicure, whether you do it by yourself or by a professional. Therefore, investing in glitter nail polish wraps is much more feasible financially and economically for the changing preferences of a person as compared to conventional nail polish. Glitter nail polish wraps are cheaper than nail polishes, especially if they can be offered to you in packs as Hello Nails does – a pack of 3 and 5 wrap saving bundles.
Glitter nail polish wraps are quicker to install
If you are running late for a party or event, the glitter nail polish wraps will surely be your saving grace. Since wraps are like stickers that only need to firmly stick on the nails, they are faster to apply than the traditional nail polishes since there is almost zero waiting time. The waiting time here comes in the form of properly painting your and, subsequently waiting for them to dry. Therefore, nail polish wraps are easier and faster to put on. So, imagine running late and you need glitter on your nails. If you have wraps, all you have to do is stick them on once, and then you're good to go. However, if you were to use conventional nail polishes, you would have to first wait for the base coat to dry and then the coat of glitter to dry – only increasing the time spent on your nails. Thus, glitter nail polish wraps are much more convenient. All in all, you can switch between
Pink Glitter nails
to
Night Sky Glitter
and then to
Blue

 Glitter
depending on your situation by using the glitter nail polish wraps from
Hello Nails.
Glitter nail polish wraps last longer
Wouldn't it be much easier if you could enjoy your entire holiday season free of any worry about your nails or scheduling your manicure appointments? If you stick to using glitter nail polish wraps for any holiday or other days, you'll set yourself free from worries concerning worn-out nails. Wraps don't chip and crack as quickly as customary nail polishes, buying you more time till your next manicure. They even give off better colors and designs that professionals can't even offer at times. In two weeks, you'll see a visible difference between the quality of the wraps and polishes. Hello Nails' Red Glitter Nail polish wraps will be perfect for this holiday season since they will last without a single hint of wear and tear on them. Using these will free you from the high standards of maintaining perfect nails for your nights-out!
Nail polish wraps help make nails look even prettier
Some people don't have naturally curved nails, not giving them the best appearance of their short natural nails. Believe it or not, nail polish wraps actually help with the natural nail overlay, which in turn is a step towards creating a beautiful tip at the end of the nails. So those who are conscious about the appearance of their nails can now, too, feel relieved as wraps tend to cover up their imperfections pretty well. So, if you think about it – getting rid of your natural look and getting pretty glitter nail polish wraps gives you a chance to outshine all others! The combination of the two is certainly the definition of 'chic' and 'class!' Using Diamond Glitter nail wraps might help you get the proof that you need!
Glitter nail polish wraps are safer to use as compared to glitter nail polishes for obvious reasons that support your outgoing lifestyle. The depth of the colors produced, and the outcome are certain and highly predictable in glitter nail polishes, so you aren't risking anything at all.

Hello Nails offers you a wide range of nail polish glitter wraps for you to easily choose from according to your occasion. You don't have to worry about the resultant shades or go an extra mile to spark your nails by painting your nails by following multiple time-consuming steps
All you have to do is purchase simple stickers and like any other stickers, apply them on your nails and get the result in seconds, and then you're good to go!